More info
Developed and patented by Historia Mannequin, the MD14 model has been specially developed to fit old uniforms and costumes, particularly regarding the height, the shoulder width, and the waist, thigh and calves circumferences.
Features:
Flesh color tone slightly grainy to mimic skin texture.

Hand painted face with a 5 o'clock light shadow and sharper face outlines.

Thermoformable plastic hands (finger moderately bendable by immersion in hot water).

Articulated shoulders allowing the arm to slightly swing.

Rotating hands.

Iron base with fastening system on the back of the calf. Note that in most cases the mannequins will stand without the base.
Dimensions :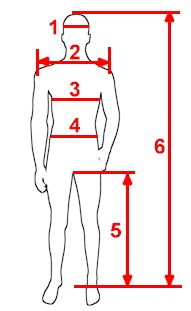 1 : Head girth : 54 cm ( 21.3 in. )

2 : Shoulders width : 44 cm ( 17.3 in. )

3 : Chest measurement : 90 cm ( 35.4 in. )

4 : Waist measurement : 73 cm ( 28.7 in. )

5 : Inseam measurement : 88 cm ( 34.6 in. )

6 : Height : 1m76 ( 69.3 in. )

Foot length : 25 cm ( 9.8 in. )